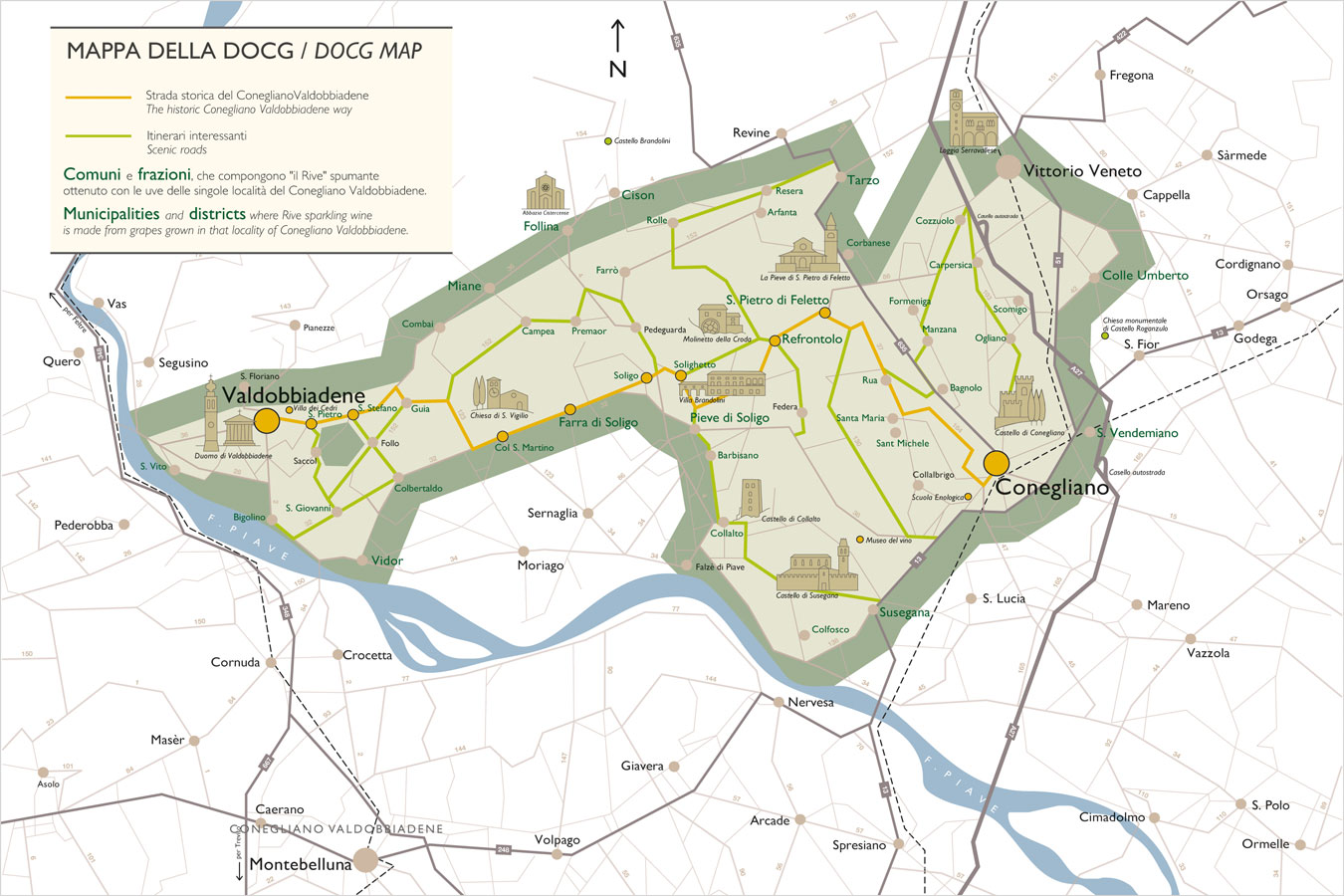 The vineyards of the renowned Conegliano Valdobbiadene DOCG area lie on a surface of 6,000 hectares in the Veneto Region, about 50 km north of Venice, between the Adriatic See and the Dolomites.
The strategic position enjoys some beneficial effects of the climate: this territory, protected by the mountains and with mild winters thank to the proximity of the sea, is recognized for the particular qualities of the soil geoprofile and of the microclimate.
The composition of the soil, with its chemical and physical peculiarities, and the strong thermal excursion make unique and unmistakable the perfumes, the aromatic characteristics, the elegance, freshness and vitality typical of the Prosecco of Conegliano Valdobbiadene.
Since XVIII century on the hillsides, sometimes too steep to remain standing, at altitudes varying between 50 and 500 metres above sea level, vine-growers have cultivated tenaciously Glera and others local grape varieties such as Verdiso, Perera and Bianchetta, but also international grapes such as Chardonnay and Pinot.
The wine Prosecco of Conegliano Valdobbiadene can be produced in fact with a minimum of 85% of grapes of Glera and a maximum of 15% of the other above mentioned grape varieties.
The origin of this vine, Glera, is rather remote and could be dated back to the first Roman Empire. According to some historians, it was already known at the time of the roman empire as "Puxinum" or "Pucino", so much that from this grape variety the romans have obtained a wine particularly appreciated by the empress Livia Augusta who considered it the secret of her old age.
The production area (around 20.000 hectares) include fifteen districts between the towns of Conegliano and Valdobbiadene. Here Prosecco is Superior "by nature" so much that in 2009 it received the D.O.C.G. recognition where G stands for Guarantee of the excellent quality of the product.
A microzone of around 100 hectares lies within this vine area: here the Prosecco Valdobbiadene Superiore di Cartizze is produced, the top of the quality pyramid for Prosecco.
The vine growers of Conegliano Valdobbiadene have a difficult duty but rich of satisfactions for interpreting as best they can the vines that create their wines and for setting the vinifiction in order to exalt the aromatic characteristics, elegance, freshness and vitality typical of Prosecco.
Thanks to the passion for their land, the vine growers have embroided the steep slope of vineyards cultivated by hand, whose unique and inimitable product represents to the best the DOCG Conegliano Valdobbiadene appellation.
Foto by: www.prosecco.it